Growing up in Havenwood Falls has its advantages – and its pitfalls. Come discover the first-love romance, teenage angst, and trials and tribulations of the students, human and supernatural, of Havenwood Falls High, our Young Adult series.
These stories can be read in any order (although some do have sequels), but if you prefer to have a reading order, you can follow them in order of release.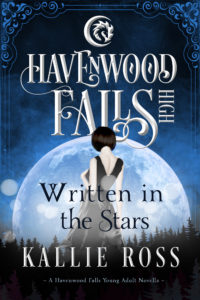 AVAILABLE FREE ON KINDLE UNLIMITED
The Kasun wolf pack has always been led by a female alpha, but when Willa Kasun's mother died to give her life, her father stepped in as leader. Now that she's about to come of age, the pack will once again be led by a female, as it is meant to be. Except Willa hasn't shifted yet.
Less wolf and more cub-dud, Willa has until her next birthday to shift and claim her place as alpha, or she'll lose it forever. Something her pack mates won't let her forget. The few supernatural powers that have manifested are her secret and the only hope she has of unleashing her wolf.
Distractions of life as a junior at Havenwood Falls High provide a needed escape from the pack's pressure, making Willa feel more like a teenager and less like an alpha every day. Then there's Tarron Wilde, a sarcastic and striking elf, who makes her wonder if being alpha is really what she wants.
Her heart yearns for a reality unfamiliar and feared by her pack, while her mind can't accept being replaced as alpha. The future of her entire pack relies on Willa's choice—embrace what was written in the stars so long ago or choose to fight for what her heart desires.