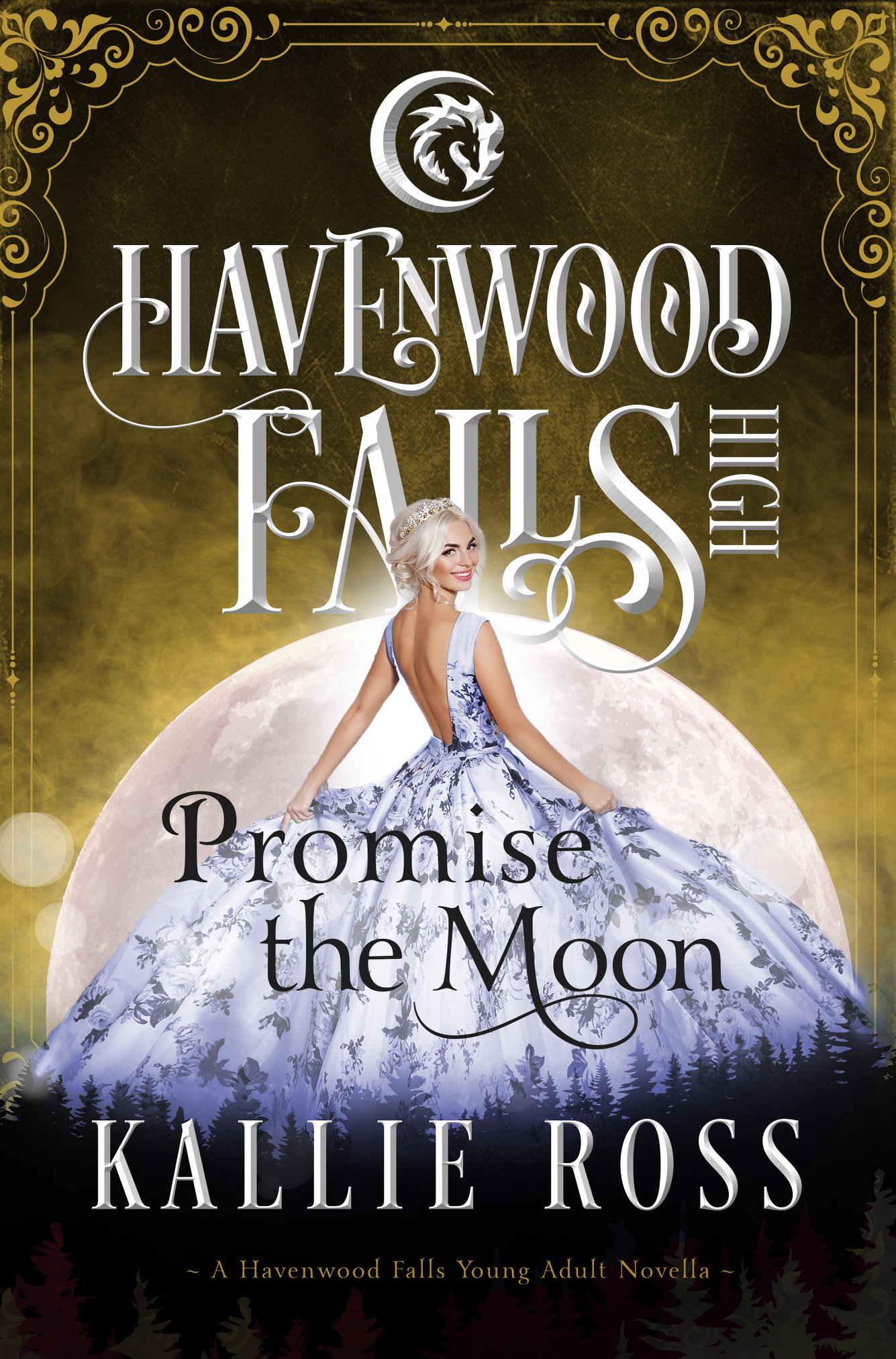 Promise the Moon
By Kallie Ross
Series: Havenwood Falls High
Genre: Young Adult Paranormal Romance
Release Date: April 12, 2019
Cover Design: Regina Wamba, MaeIDesign.com
Preorder on
Apple Books: http://havenwoodfalls.com/ptm-ab 
Amazon US: http://havenwoodfalls.com/ptm-zon 
Amazon UK: http://havenwoodfalls.com/ptm-zonuk
Coming soon to Kobo | Barnes & Noble
With her future already fated by others, vampire-hybrid Elle makes the most of her present—but a friend's betrayal could end it all.
Seventeen-year-old vampire-dryad hybrid Elle can't live up to her parents' expectations. She's snubbed by her dad's bloodline-obsessed vampire family while her mom's dryad side has determined her fate—to return to New York City and protect Central Park.
Unsure of her place in the world yet held to promises her family made, Elle dreads leaving her friends as well as breaking things off with her wolf-shifter boyfriend, Kase. With her destiny out of her hands, Elle is determined to control what she can.
Even though Kase Kasun has spent his life living in the shadows of his family name and the weight it carries, he's embraced his role as a protector of Havenwood Falls. Everything had been worked out, until Elle started distancing herself. Kase knows the space she's creating between them will only make room for trouble.
Intent on savoring every last minute together, Elle, Kase, and all their friends plan an epic Spring Break camping trip. But when one of Elle's so-called friends turns out to be an enemy intent on taking her out of Havenwood Falls, her life may come to an untimely end. Promises are made to be broken, and only the moon has the power to save her now.
Welcome to Havenwood Falls, a small town in the majestic mountains of Colorado. A town where legacies began centuries ago, bloodlines run deep, and dark secrets abound. A town where nobody is what you think, where truths pose as lies, and where myths blend with reality. A place where everyone has a story. Including the high schoolers. This is only but one.
This is a stand-alone Young Adult paranormal tale in the Havenwood Falls High series of Young Adult fantasy stories featuring a variety of supernatural creatures. Havenwood Falls is a collaborative effort by multiple authors. Each author writes a stand-alone story, so they can be read in any order.