Today I'm super-thankful for this fun-loving, down-to-earth, great-dane-owning farm girl! Hope Collier is an amazing author, and inspiring friend. She juggles family, writing, and great danes! (All I have is a Chih-weenie!) I'm thrilled for you to get to know Hope, and I know you'll love her storytelling.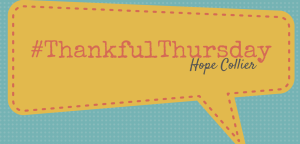 Warm-Up: Would You Rather…
Join a gym or a fantasy league?
* Can I pick the circus?
Walk a fashion week runway or sing in a halftime show?
* Omgosh, I don't think anyone in their right mind would want to witness either lol. Personally though, despite my inabilities, I love to sing. If I had the voice, my life would be an opera, and I would sing every word!
Write a self help book or a cookbook?
* I think my husband would be the 1st to tell you I have no business writing a cookbook…unless it's recipes for instant meals.
Eat only turkey, or only pumpkin pie for a week?
* Definitely turkey. I'm not a big pumpkin fan.
Be tied to a chair at the Thanksgiving dinner table all day or in a Black Friday line for two hours?
* Tie me up! Wait … that didn't sound right. I don't like shopping or crowds, so Black Friday might as well be the premise behind some Hope-specific horror movie.
Main Course Questions:
What are three things you're most thankful for as an author?
1) The amazing readers out there who truly are the reason we (authors) can be successful in any measure. I LOVE my readers! Y'all keep me motivated.
2) The mind-boggling support I've received from my friends and family to pursue my passion. A lot of authors don't have others in their corner. I'm super blessed!
3) I'm SO grateful for the incredible friendships I've made with other writers (like YOU!), bloggers, and readers alike who appreciate my eccentricities and encourage me to embrace my awkward. Writers are an odd bunch in general. I've never known truer friends than those who genuinely "get" me in this crazy life I call a career!
Do you have any strange writing habits?
* Hmmm. I almost never write linearly. I don't start at the beginning and simply write until the end. I'm sort of all over the place. It gets … interesting at times!
What part of your stories do you change your mind about most while writing? (i.e. characters, setting, plot, etc.)
* I'm mostly a pantser, so pretty much everything surprises me at some point. Though my characters tend to change THEIR minds a lot. Sometimes they let me tag along when they start doing their own thing. I guess I'd have to go with them.
Which of your characters are you most like? How?
* Ohh, that's a tricky one. I think secretly authors put a little of themselves into most of their characters. Maybe it's who we'd like to be given the chance. Maybe it's who we're afraid of becoming. I'd have to say Ashton from The Willows series has a lot of similar interests, though I have more of Gabe's personality.
I'm a big fan of playlists… And, I love that you have them for your novels! 
You can find them here:
If you could pick one song to represent each of your main characters, what would they be?
* Excellent question and really tough to answer lol! Without giving anything away, my characters' lives are so interwoven with each other, it's easier to base their song choices on those relationships. I guess I'd have to go with the following:
Ashton – BREATHE ME by Sia and later in the series HEARTLINES by Florence + the Machine.
Gabe – TRUST ME by The Fray
Kyle – ALL FALL DOWN by One Republic
Describe your novels in 10 words or less each.
The Willows: Haven — There's more to life than meets the eye.
The Willows: Thorn — Not all scars are visible.
(WIP) Between the Shadow and Soul — For some, death is just the beginning.
What is your least favorite part of the writing process?
* I don't really have a least favorite part of the actual writing process. I like the various stages for different reasons whether it's the excitement behind a fresh idea or the flash of inspiration you get while revising. I'd have to say my least favorite part of the book process as a whole would be marketing. Marketing is the bane of my existence lol.
Where can we see you, and what can we see from you in 2015?
* As of now, I'll be attending Penned Con in St Louis and UtopYA Con in Nashville in 2015! I'm sure I'll add to that list in the future. As far as what to expect from me next year, readers can be on the lookout for both Thorn and Between the Shadow and Soul 🙂
Wrap-Up: Rapid Fire…
Favorite animal at the zoo? Pandas!
Favorite Avenger? I'm a diehard Batman girl. Sorry 😉
Favorite Thanksgiving side dish? My mom's pasta salad. YUM!
Favorite holiday pastime? Watching my favorite holiday-themed movies <3 After all, "It's the Great Pumpkin, Charlie Brown."
Favorite read for the holiday season? I guess currently, The Heart of the Ancients by Elizabeth Isaacs. Not a holiday read per se but awesome nonetheless!