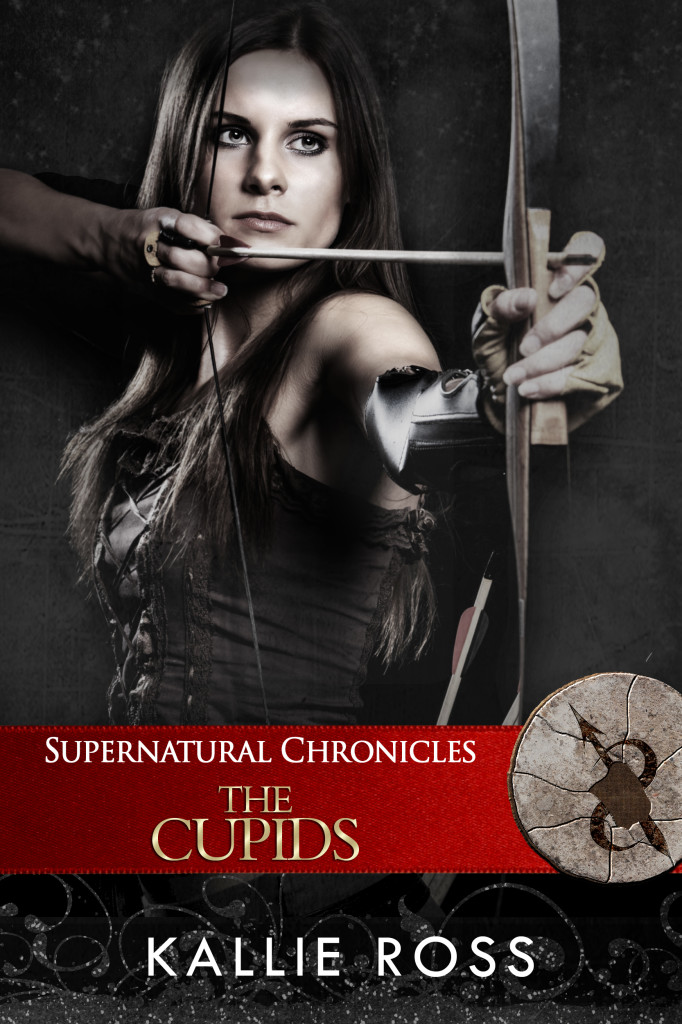 Supernatural Chronicles: The Cupids
Evelyn Bowden, at nineteen, sacrificed herself for Tate Gallier. Her act inspired the gods to deem her immortal as a cupid. Now, she's been assigned to apprentice with Andel Lambros, a 200 year-old heavenly archer that looks 24. The purpose of the cupids is easy enough for the newbie to understand, and to resent. But the significance of their work doesn't have time to sink in when Evelyn is given her first assignment.
Cupid elders have received a message and need their newest, least experienced, comrade-in-arms—Evelyn—to retrieve an arrow. That means she must release a mortal from an everlasting love. When she discovers the arrow is fastened to none other than her own love, Tate's heart, Evelyn battles with letting him go. The century old war for love may be lost if Evelyn doesn't gear up to save them all.
Being a cupid takes more than a bow and some arrows. Evelyn is challenged to deliver her arrow, let go of her first love, and trust an ancient brooding cupid with her existence. Giving up her lost love's arrow as an offering will be more painful than getting hit by a streetcar, and she knows how that feels since it's what started the whole predicament. Will Evelyn be able to keep her covenant to her fellow cupids? Will she save them all or lose everything trying?
Pre-Order The Cupids Now for .99¢
Join the Facebook Discussion Group: https://www.facebook.com/groups/434753706727619/
Supernatural Chronicles: New Orleans
Beneath the brow of Bourbon and French architecture, the iris of New Orleans swirls with flecks of worlds and beings unknown to mankind. Come with us as we chronicle their journey—each supernatural race must hunt for an offering in hopes of saving their own. Skinwalkers, Wolves, Vampires, Dragons, Succubi, Witches, Necromancers, Cupids, and Asgardians are all in danger of losing control as an uprising darkness threatens to rip the veil that protects them all from the great beyond.
Ten original novellas, following each supernatural race as they fight an elusive enemy, are written by New Adult authors Lila Felix, Kristie Cook, Brenda Pandos, Delphina Henley, Julia Crane, Jamie Magee, Morgan Wylie, Kallie Ross, S.T. Bende, and Rebecca Ethington. Come join them for the hunt and discover hidden treasures inside.
~
The first supernatural chronicle will be release October 26th, and then weekly until the final release December 21st. Every week a different paranormal's story will be told, and a relic will be revealed. Readers will be able to join in the hunt and win prizes. Whether you love witches, angels, or werewolves, New Orleans is being flooded with the supernatural this Fall. A boxed set will be available in early 2016, following the individual publications. Anyone that enjoys reading New Adult Paranormal won't want to miss this release of novellas.
Titles Include:
Supernatural Chronicles: The Skinwalkers by Lila Felix
Supernatural Chronicles: The Wolves by Kristie Cook
Supernatural Chronicles: The Vampires by Brenda Pandos
Supernatural Chronicles: The Dragons by Delphina Henley
Supernatural Chronicles: The Succubi by Julia Crane
Supernatural Chronicles: The Witches by Jamie Magee
Supernatural Chronicles: The Necromancers by Morgan Wylie
Supernatural Chronicles: The Cupids by Kallie Ross
Supernatural Chronicles: The Asgardians by S.T. Bende
Supernatural Chronicles: The Noir by Rebecca Ethington
Giveaway
About Dynamis
The unseen force within, Dynamis, was something the Greeks knew to be vital, vigorous, powerful, positive, enterprising, magnetic, and above all passionate. We are the authors who strive to weave our stories from this great unknown.