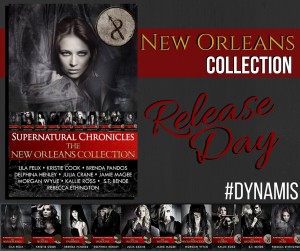 It's Release Day!
Supernatural Chronicles: The New Orleans Collection
Beneath the brow of Bourbon and French architecture, the iris of New Orleans swirls with flecks of worlds and beings unknown to mankind. Come with us as we chronicle their journey—each supernatural race must hunt for an offering in hopes of saving their own. Skinwalkers, Wolves, Vampires, Dragons, Succubi, Witches, Necromancers, Cupids, and Asgardians are all in danger of losing control as an uprising darkness threatens to rip the veil that protects them all from the great beyond.
Ten original novellas, following each supernatural race as they fight an elusive enemy, are written by New Adult authors Lila Felix, Kristie Cook, Brenda Pandos, Delphina Henley, Julia Crane, Jamie Magee, Morgan Wylie, Kallie Ross, S.T. Bende, and Rebecca Ethington. Come join them for the hunt and discover hidden treasures inside.
Order Your Copy Now!