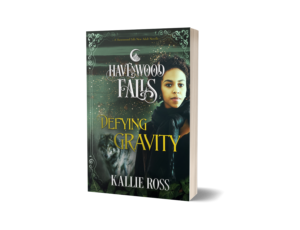 EXCLUSIVE BELOW….
Welcome to the secluded mountain town of Havenwood Falls, home to sexy men, strong women, and neighbors who bite. Discover supernatural mystery, thrills, and romance in a place where everyone has a deep, dark, and often deadly secret.
The weight of tradition grows heavier on Tate Kasun each day. As a wolf shifter, he knows the ancient magic of Havenwood Falls must be protected. As the son of the sheriff, he's expected to safeguard that magic from outsiders. But then Alex Newton crashes into Tate's world and makes him question who and what he should be protecting.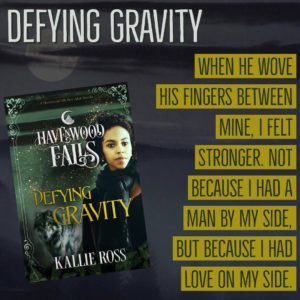 After years of trying to prove the supernatural world doesn't exist, Alex Newton stumbles into Havenwood Falls, past their protective wards, and into the arms of Tate Kasun.  Alex discovers that the ancient ring she wears holds the power to give life, while making her immune to the magic around her—which not only makes her a threat to the Court of the Sun and the Moon, but puts her in imminent danger from those who want the power for themselves.  
Alex is pulled into a world she can't explain. Tate is drawn to Alex in a way he can't deny. Will Tate defy his pack and put Havenwood Falls at risk to protect Alex? Or will he be able to convince the town to trust his instincts and pull together to protect this outsider?
The Havenwood Falls shared world is a collaborative effort by multiple authors across multiple series all in the paranormal fantasy genre, allowing readers to discover new authors and stories to fall in love with. Each author brings a stand-alone plotline, so they can be read in any order, but there are many crossovers among the stories.

EXCLUSIVE
Alex froze mid-step, and turned around slowly. She placed her hands on her hips and searched my face. "I'm not—"

"Please, don't finish that thought. Maybe my second apology should be for calling you my girlfriend? But I was planning to apologize for sending you mixed signals. I want you to know how much I like you." I rubbed the back of my neck, worried she would say she's not my girlfriend and she never would be.

"I like you too. And, I appreciate you apologizing. I guess I'm just curious why you've been keeping me at arm's length physically. It doesn't match up with the way you talk to me."  She looked to the ground, and then the corners of her mouth turned down.

Alex's honesty was refreshing, and heart-wrenching.

I wanted to be honest too. The problem was I heard my father recite his mantra about protecting the town in my head. I would only omit what I had to.

"I'm not good at relationships. I struggle with balancing the emotional and physical, so if you're willing, I'd like to try something a little more old fashioned. When I think of the way my dad loved my mom…I can still feel that love from him when he talks about her." I took a deep breath and met Alex's eyes. "I want to capture your heart."

"I'm willing." Alex beamed up at me. "Now, let's pick out our dessert before all the good stuff is sold."


Books in the signature Havenwood Falls adult series:
Forget You Not

by Kristie Cook

Fate, Love & Loyalty

by E.J. Fechenda

Old Wounds

by Susan Burdorf

Covetousness

by Randi Cooley Wilson

The Winged & the Wicked

by T.V. Hahn & Kristie Cook

Alpha's Queen

by Lila Felix

Ink & Fire

by R.K. Ryals

Lose You Not

by Kristie Cook

Tragic Ink

by Heather Hildenbrand

Nowhere to Hide

by Belinda Boring

Flames Among the Frost

by Amy Hale

Rock Me Gently

by Susan Burdorf (May 2018)

From the Embers

by Amy Miles (June 2018)

Defying Gravity

by Kallie Ross (July 2018)

Coming soon are books by Stacey Rourke, Danielle Bannister, CJ Pinard, Melissa Wright, and more.

Also look for Havenwood Falls High, a Young Adult series, and Legends of Havenwood Falls, a historical fantasy series.

Immerse yourself in the world of Havenwood Falls and stay up-to-date on news and announcements at www.HavenwoodFalls.com. Join our reader group, Havenwood Falls Book Club, on Facebook at https://www.facebook.com/groups/HavenwoodFallsBookClub/