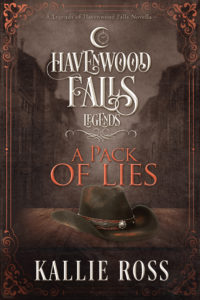 A PACK OF LIES
By Kallie Ross
Series: Legends of Havenwood Falls
Genre: Historical Paranormal
Release Date: December 7, 2018
Cover Design: @reginawamba, MaeIDesign.com
Apple Books: http://havenwoodfalls.com/apol-ib 
Amazon US: http://havenwoodfalls.com/apol-zon 
Amazon UK: http://havenwoodfalls.com/apol-zonuk 
Kobo: http://havenwoodfalls.com/apol-ko 
Barnes & Noble: http://havenwoodfalls.com/apol-bn 
Every town has stories of its past, and Havenwood Falls is no different. And when the town's residents include a variety of supernatural creatures, those historical tales often become Legends. This is but one . . . 
Gaby Kasun, alpha of the Kasun Canyon Pack, is responsible for protecting her people and the magical falls hidden in the mountains in the Wild West. With the threat of war looming, hostile natives, and an emerging new world, she rules with desperate determination, while struggling to ensure her pack's survival.
In the summer of 1820, as the pack prepares for winter, Gaby receives a message of hope from an old acquaintance—promising wealth and security in St. Louis. All she has to do is travel to the big city, collect what the pack needs, and return home before the first snow fall. With no other options available, she and her mate Ric hit the trail, determined to turn things around for their people, no matter the risk.
When Gaby and Ric arrive at the gussied up, gun-slinging city, they're met with obstacles at every turn. The Creole Elite, a group of tycoons led by Benedicte Trudeau, have other plans for Gaby. The alpha is forced to fight for her life as she battles to save her people and her relationship with Ric.
Supernaturals hidden in plain sight. Concealed love. A life-ending shootout. Gaby must unravel a pack of lies to save herself and her pack.
This is a stand-alone historical paranormal in the Havenwood Falls shared world, a collaborative effort by multiple authors across multiple series, allowing readers to discover new authors and stories to fall in love with. Each author brings a stand-alone plotline, so they can be read in any order, but there are many crossovers among the stories.
Books are released on a monthly basis. Immerse yourself in the world of Havenwood Falls and stay up to date on news and announcements at www.HavenwoodFalls.com. Join our reader group, Havenwood Falls Book Club, on Facebook at https://www.facebook.com/groups/HavenwoodFallsBookClub/
#hwf #LHF #legends #books #newrelease #paranormal #historical #oldwest #supernatural