My YA Murder Mystery Faves:
Across the Universe by Beth Revis
I Hunt Killers by Barry Lyga
The Body Finder by Kimberly Derting
Grave Mercy by Robin LeFevers
Shelter by Harlan Coben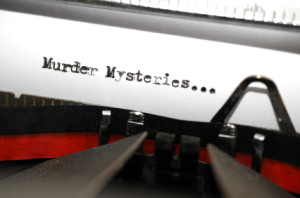 Who wants teenagers to think it's okay to seek out serial killers?
While the mysteries above cross genres into science fiction and paranormal, the ultimate plot is all about murder. In a lot of cases, YA Mystery has an element of death in the storyline, but the resolution is more about finding the missing do-ma-flotchy or solving the riddle that determines their destiny.
Threading a murder into the plot of your novel may seem scary to try, but I've decided to face that fear in my next novel. Wrangling in the protagonist(s) to be thoughtful and deductive is difficult enough, but try throwing in hormones and peer pressure. My characters surprise me every time I sit down to write, because as teenagers they have a passion for life and that's a great trigger to want to find a murderer.
While working on the plot for my novel I thought of a few tips that I wish I'd known before I began, and now I'll share them with you…
1. Read other Murder/Mystery Young Adult novels, and watch television shows that cover the same territory. There are even some 'adult' crime shows that investigate teen situations.  (i.e. Pretty Little Liars, The Vampire Diaries, Bones, CSI etc.)
2. Work on the character bio for your murder. You need to know why he/she would commit the murder. Here's a link to a worksheet that may help you get to know your character better… Character Bio Worksheet.
3. Plan the murder… Thoroughly. But, not in a creepy way. You need details, and you also need to think this through the way your murderer would. Was the incident planned, or a crime of passion? How would he/she try to cover it up? Or, would they simply blame/frame someone else? Get specific, and get inside the head of the killer.
4. While plotting out the story (See some helpful tips from our #LoveWriteCreate Hangout), space out clues to reveal the truth to your readers. This is a tough one that requires patience, but if it's done well you can throw a wrench or twist in for good measure. Even though you don't want to spell it out for the reader, you do want to plot it out for yourself in a way that makes writing easier down the line. Think of plotting as a tool to help you unveil the truth like a sunrise.
5. Finally, make sure there's clear resolution at the end of your novel. It has to be the worst feeling to spend time reading a story and investing in the characters for the bad guy to get away in the end. But, what if it's a series, you ask? There still needs to be an element of resolution for your readers to feel satisfied, so let them discover something crucial that leads to more questions. Then you have the opportunity to answer those questions in the next novel.
I hope these little bits of advice are helpful, and if you have any tips I'd love to know and share them. Please, leave a comment below for everyone to learn from!