Winners have been selected randomly at Rafflecopter.com! Congrats to Sarah and Lauren! You've each won a $25 gift card! I'll be contacting you soon!
The winners of an e-copy of Descent are…
@swagcapmojoman3
@collegekidcbl
@beadelt
@sandyhills25
@Nookbksnmore
@sprtsgrlva
@HopeCollier
@audreyXstarr
@ohmycarlisle
@shani7994
Descent was released a month ago this week, and I've been blown away by the support from you all. To express my thanks, and spread the word about Descent, I'm giving away 2 – $25 GIFT CARDS and 10 – Descent Ebooks! All you have to do is tell your friends about Descent.
The drawings for the gift cards will be random, and the 10 people that share, tweet, and post the most will win e-copies of Descent!
Every day you use #DESCENT in a tweet, update, and/or post it counts as an entry. (I'll be trolling the social media to keep up with them.) And, you can also enter multiple times this week below just by following, friending, and liking!
So, be a good friend and share a good book!
What to Share/Tweet/Post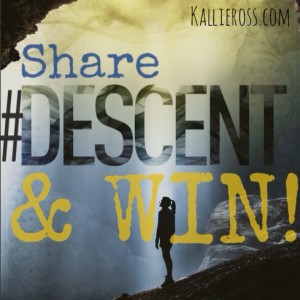 Good friends share good books! Order your copy of #DESCENT! http://www.amazon.com/dp/B00KRQIDF6