CONGRATS TO THE WINNER, KATRINA!
Merry Christmas! To celebrate the season, and thank you all for a great 2016, I'm giving away a $25 Gift Card to Amazon, a set of signed paperbacks, and arrow jewelry!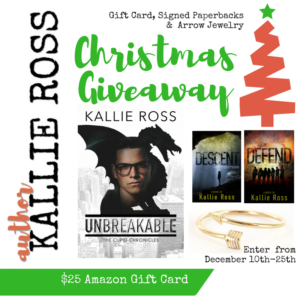 a Rafflecopter giveaway
It's been a crazy-fun year, but I'm ready for 2017. There is a lot to look forward to in the next year. I plan to write a Fantasy novel and continue the Cupid Chronicles. But before all that, I plan to enjoy the last couple weeks in December. I'm looking forward to spending time with my family, laughing, and amazing food. Fast forwarding through the last few weeks of the year, only focused on #2017goals would mean missing out on everything I'm thankful for right now.