I'm thrilled to be able to introduce you to my #BookBuddy, Chris Cannon! She was nominated for Utopia's Best Debut Novel this summer and her newest novel Blackmail Boyfriend was recently released. Read more below…
Blackmail Boyfriend Blurb:
Sometimes, blackmail is the only weapon a girl has…
Haley Patterson has had a crush on golden boy Bryce Colton for ages. But when she hears a rumor that he hooked up with her she gives him a choice: be her boyfriend for a month to show other guys that she's dateable—despite her overprotective and very intimidating brothers—or deal with the angry, cage- fighting boyfriend of the girl he actually did hook up with.
Bryce didn't know the other Haley even had a boyfriend. He was just trying to get his ex off his back. And now, not only is he being blackmailed, he's being blackmailed by an honor student. His new "girlfriend" has two three-legged dogs, her father mows grass at the country club, and she's…well, difficult. And different.
Can something so fake turn into something real?
Blackmail Boyfriend Excerpt:
Rationally, I knew I should be angry about the rumor that made it sound like my name and number would soon be scrawled on the boys' bathroom wall. My reputation, not that I had much of one, was at stake. But as pathetic as it might sound, thanks to my brothers' interference in my social life, this was the most exciting moment of my junior year, so far.
We slowed down as we rounded the corner into the biology hall. Bryce stood lounging in front of his locker, wearing a crisp white shirt and khakis. I felt underdressed in the Levi's and the black Talk Nerdy to Me sweatshirt I'd thrown on this morning.
With his blond hair, broad shoulders, and perpetual tan, Bryce looked like a California underwear model. Not that I'd thought about him in his underwear.
Much.
He was talking with his friend Nathan. Where Bryce had the whole tan, blond, hazel-eyed thing going on, Nathan was fair with dark hair and dark eyes. They looked like opposite sides of the same coin. A really hot, totally unreachable coin that a collector would keep in a special locked case, which normal girls like myself were not allowed to touch.
Bryce glanced up as we came to a stop in front of him. It was probably the first time he'd noticed me. I was cute, but he tended to date girls with boobs bigger than my head.
Trying to look angry rather than curious, I did the hands- on-my-hips maneuver, which told my brothers I meant business. For extra emphasis, I threw in a glare. "Why are you telling people we hooked up after the bonfire?"
His eyes roamed from my dark blond shoulder-length hair down to my knock-off tennis shoes and back up again. "Who're you?"
"I'm Haley Patterson."
He shook his head. "The Haley I hooked up with has red hair."
"Haley Hoffman has red hair." I held my hand six inches above my head. "She's about this tall and wears a lot of makeup."
"That's her," Bryce confirmed. "She said her name was Haley Patterson."
I turned to Jane. "Why would she use my name?"
Jane gave Bryce the same once over he'd given me. "Maybe she was slumming and didn't want anyone to find out."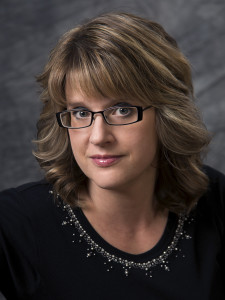 About Chris Cannon
Chris Cannon lives in Southern Illinois with her husband and her three dogs, Pete the shitzu who sleeps on her desk while she writes, Molly the ever-shedding yellow lab, and Tyson the sandwich-stealing German Shepherd Beagle. She believes coffee is the Elixir of Life. Most evenings after work, you can find her sucking down caffeine and writing fire-breathing paranormal adventures.
Blackmail Boyfriend is on Amazon. ‪http://goo.gl/N13yn6