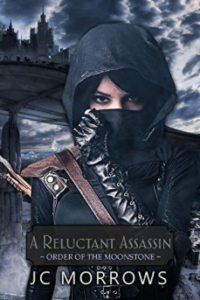 I met JC Morrows a few months ago at a B&N event, and from the moment I saw her covers and read her book jackets I knew I needed to share her series, Order of the Moonstone, with you! I want you to discover her world for yourself, but to give you some perspective the feel of the series is Clockwork Angels meets Throne of Glass and they have a Graceling-baby. To prove it, I'll include the link to the first book in the series… It's FREE! CLICK HERE!
You know how I am about book series. I hate getting caught up in Book 1, only to spend a year dreaming about the characters and what might happen next. Well, the great thing about me introducing you to JC now is that the 4th book in the series, A Tragic Consequence, was released yesterday. You don't want to miss jumping on this bandwagon!
If you enjoy reading steampunk, fantasy, a kick-butt female protagonist, and a plot that keeps you guessing you will LOVE this series. I'd recommend the books to an audience as young as my daughter (13) and as mature as my mother (63). Order of the Moonstone is a fantastic series you'll get lost in!
More about A Tragic Consequence…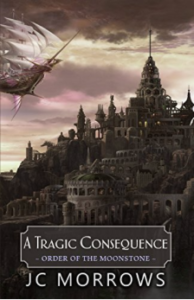 FORCED TO FLEE . . . WOUNDED . . . ON THE RUN . . .
Not exactly a safe place for a former assassin and the prince with a price on his head.
In the dark streets of Auralius, Kayden and her prince struggle to find a way to set the country right again, but the Order of the MoonStone has a long reach and a strong grip.
Will the two of them be able to find a way to bring down Kayden's former employers?
Will Kayden's unusual charm help them to find an ally where there was none?
Readers have proclaimed that The Order of the MoonStone is somewhere between Sarah J Maas' Throne of Glass series, Kiera Cass' Selection series, and Marissa Meyer's Lunar Chronicles!
Books in the Order of the MoonStone seres:
A Perilous Assignment (BONUS Short)
A Reluctant Assassin (Book 1)
A Cunning Masquerade (Short Story)
A Reluctant Assassin (Special Edition)
A Treacherous Decision (Book 2)
A Dangerous Love (Prequel Short)
A Desperate Escape (Book 3)
A Covert Alliance (Short Story)
A Tragic Consequence (Book 4)
A Broken Kingdom (Book 5 – COMING in 2017)