EVELYN: A Cupid Chronicles Novella
Evelyn Bowden, at nineteen, sacrificed herself for the love of her life. Her act inspired the heavens to deem her immortal as a Cupid. Piercing two hearts with true love takes more than a bow and some arrows. That's where Andel Lambros comes in, he's a handsome, experienced Cupid in charge of her training. While trying to prove herself worthy, Evelyn is challenged to deliver her first arrow, let go of her first love, and trust her mentor with her existence.




UNBREAKABLE: The Cupid Chronicles (Book 1)
Dying for the love of your life…
Evelyn Bowden thought her story was over. Little did she realize, it had just begun.
The heavens made her a Cupid– a supernatural with the rarest ability. One that allows her to pierce both mortals and immortals with arrows possessing everlasting love. But Evelyn soon discovers Cupids fight a battle in a long fought war.
A duty to protect the purest form of love…
As Evelyn embarks on her first mission, helping a Gargoyle find his true love, she is exposed to the blurred battle lines between light and darkness. While an unknown threat proves it's willing to do anything to get their hands on Evelyn and her arrows, the heavens send Andel Lambros to help protect her. She finds herself at risk of being distracted by her former mentor, Andel, a stunning Cupid with dimples hard to ignore.
Missing her mark could lead to a supernatural war…
Having no idea how powerful she is, Evelyn is forced to put everything on the line as she balances the fate of the world on the tip of her arrow. But will love conquer all once she hits her mark, or will all be lost in the end?
More to come soon!




WRITTEN IN THE STARS (Havenwood Falls High)
Amazon US | Amazon UK | Read for free on Kindle Unlimited
Welcome to Havenwood Falls, a small town in the majestic mountains of Colorado. A town where legacies began centuries ago, bloodlines run deep, and dark secrets abound. A town where nobody is what you think, where truths pose as lies, and where myths blend with reality. A place where everyone has a story. Including the high schoolers. This is only but one… 
The Kasun wolf pack has always been led by a female alpha, but when Willa Kasun's mother died to give her life, her father stepped in as leader. Now that she's about to come of age, the pack will once again be led by a female, as it is meant to be. Except Willa hasn't shifted yet.
Less wolf and more cub-dud, Willa has until her next birthday to shift and claim her place as alpha, or she'll lose it forever. Something her pack mates won't let her forget. The few supernatural powers that have manifested are her secret and the only hope she has of unleashing her wolf.
Distractions of life as a junior at Havenwood Falls High provide a needed escape from the pack's pressure, making Willa feel more like a teenager and less like an alpha every day. Then there's Tarron Wilde, a sarcastic and striking elf, who makes her wonder if being alpha is really what she wants.
Her heart yearns for a reality unfamiliar and feared by her pack, while her mind can't accept being replaced as alpha. The future of her entire pack relies on Willa's choice—embrace what was written in the stars so long ago or choose to fight for what her heart desires.
DEFYING GRAVITY (Havenwood Falls)
iBooks | Amazon US | Amazon UK | Kobo | Barnes & Noble
Welcome to the secluded mountain town of Havenwood Falls, home to sexy men, strong women, and neighbors who bite. Discover supernatural mystery, thrills, and romance in a place where everyone has a deep, dark, and often deadly secret.
The weight of tradition grows heavier on Tate Kasun each day. As a wolf shifter, he knows the ancient magic of Havenwood Falls must be protected. As the son of the sheriff, he's expected to safeguard that magic from outsiders. But then Alex Newton crashes into Tate's world and makes him question who and what he should be protecting.
After years of trying to prove the supernatural world doesn't exist, Alex Newton stumbles into Havenwood Falls, past their protective wards, and into the arms of Tate Kasun.  Alex discovers that the ancient ring she wears holds the power to give life, while making her immune to the magic around her—which not only makes her a threat to the Court of the Sun and the Moon, but puts her in imminent danger from those who want the power for themselves.
Alex is pulled into a world she can't explain. Tate is drawn to Alex in a way he can't deny. Will Tate defy his pack and put Havenwood Falls at risk to protect Alex? Or will he be able to convince the town to trust his instincts and pull together to protect this outsider?
A PACK OF LIES (Havenwood Falls Legends)
Apple Books | Amazon US | Amazon UK | Kobo | Barnes & Noble
Every town has stories of its past, and Havenwood Falls is no different. And when the town's residents include a variety of supernatural creatures, those historical tales often become Legends. This is but one . . .
Gaby Kasun, alpha of the Kasun Canyon Pack, is responsible for protecting her people and the magical falls hidden in the mountains in the Wild West. With the threat of war looming, hostile natives, and an emerging new world, she rules with desperate determination, while struggling to ensure her pack's survival.
In the summer of 1820, as the pack prepares for winter, Gaby receives a message of hope from an old acquaintance—promising wealth and security in St. Louis. All she has to do is travel to the big city, collect what the pack needs, and return home before the first snow fall. With no other options available, she and her mate Ric hit the trail, determined to turn things around for their people, no matter the risk.
When Gaby and Ric arrive at the gussied up, gun-slinging city, they're met with obstacles at every turn. The Creole Elite, a group of tycoons led by Benedicte Trudeau, have other plans for Gaby. The alpha is forced to fight for her life as she battles to save her people and her relationship with Ric.
Supernaturals hidden in plain sight. Concealed love. A life-ending shootout. Gaby must unravel a pack of lies to save herself and her pack.

PROMISE THE MOON (Havenwood Falls High)
Preorder on Apple Books | Amazon US | Amazon UK
Coming soon to Kobo | Barnes & Noble
With her future already fated by others, vampire-hybrid Elle makes the most of her present—but a friend's betrayal could end it all.
Seventeen-year-old vampire-dryad hybrid Elle can't live up to her parents' expectations. She's snubbed by her dad's bloodline-obsessed vampire family while her mom's dryad side has determined her fate—to return to New York City and protect Central Park.
Unsure of her place in the world yet held to promises her family made, Elle dreads leaving her friends as well as breaking things off with her wolf-shifter boyfriend, Kase. With her destiny out of her hands, Elle is determined to control what she can.
Even though Kase Kasun has spent his life living in the shadows of his family name and the weight it carries, he's embraced his role as a protector of Havenwood Falls. Everything had been worked out, until Elle started distancing herself. Kase knows the space she's creating between them will only make room for trouble.
Intent on savoring every last minute together, Elle, Kase, and all their friends plan an epic Spring Break camping trip. But when one of Elle's so-called friends turns out to be an enemy intent on taking her out of Havenwood Falls, her life may come to an untimely end. Promises are made to be broken, and only the moon has the power to save her now.
DESCENT: A Lost Tribe (Book 1)

Ollie Miller's summer has been socially miserable, but she's ready to leave all of the hurt feelings behind and move on with her life. When curious earthquakes begin to shake and rip open the foundation of her small town the ground becomes as unsteady as her feelings for her best friend, Mateo.
When they fall, they fall hard…
They descend into a cavernous wonderland that is both mysterious and breathtaking. Ollie, Mateo, Jesse, and Alexis just want to find a way back home, but instead they find Gabriel. He is a stranger to them, but he is no stranger to the labyrinth of caves underground. Together they begin a treacherous journey filled with ancient secrets, unexpected truths, and uncharted feelings.
DEFEND: A Lost Tribe (Book 2)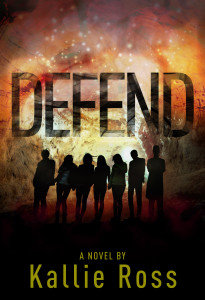 Amazon US
After emerging from her Descent into an uncharted underground world, Ollie Miller is sure of three things. First, her feelings for her best friend, Mateo, are far from platonic. She can't even look at Mateo without blushing at the memory of his lips on hers. Second, an evil man named Zadok is plotting to destroy the civilization above the surface. Third, there is no way to save the earth without returning underground. At least this time, she will have her mother along with Mateo and her friends to help guide her.
On their journey, noor, a mystical blessing guides them, but only if they're willing to follow. Ollie's determined to save the tribe from their evil leader, even if it means facing off with her long-lost grandfather. As Zadok comes face to face with his runaway daughter and his granddaughter, his plan starts to unravel, but is it too late to stop the destruction that he put into motion? Can the tribe survive and the surface be saved? Will Ollie learn to trust her own heart before it is too late?
Defend is the conclusion to Ollie's discovery of a lost tribe in Descent. Don't miss this adventure, brimming with ancient secrets and a thrilling underworld.